During the early 1970s and for nearly two decades, the original Fisherman's Café was a local hangout where fishermen came to swap stories and get the news of the day, to find out where the best fishing was and even who was looking for work. It was a simple place and a simple time. The Vega family, owners of the restaurant, knew all the locals by name and often had their orders ready for them even before they sat down. "Mr. Vega would see me walking down the street and always had a
booth facing Caroline Street ready for me. Within a few minutes, I'd be enjoying my
café con leche
and buttered toast," explained Key West local Tiffany Alloca. Located at the original Henry Flagler railroad station on Caroline Street in Old Town Key West, the original Fisherman's Café was not just a place to enjoy food, it was where people from all walks of life, many of whom were just passing through Key West, were drawn to a place they felt at home
and fit right in, like a local. Today, Fisherman's Café brings that same warm and welcoming vibe to its new location at Key West's Historic Seaport. When you come by for a visit, there's a few simple things you should expect: Fresh, just caught seafood, tasty made-to-order specialties and the unmistakable warm feeling that comes with experiencing the authentic flavors of old Key West.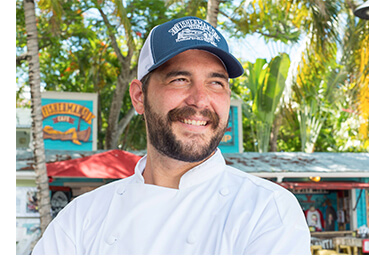 Chef Rick began his culinary career at his parents' favorite restaurant, the Manor House, in Casanova, Virginia. He joined the kitchen team at the age of 16, where he learned about the art of service and fine dining. He decided to pursue a degree at the Culinary Institute of America in Hyde Park, New York, earning a bachelor's degree in Culinary Arts Management. After graduation, Rick worked in our nation's capital at a prodigious catering company, but he didn't stay there long, moving to the Keys in 2009.
Once in the Florida Keys, Rick was instrumental in the successful start-up and operation of several popular local restaurants. Today, Chef Rick can be found at Fisherman's Cafe where he hopes to keep the craft of creative food alive and carry on the culinary traditions of Key West. On a personal note, Rick is a fan of football and LOVES the Washington Redskins. Come see him at Fisherman's Cafe on Lazy Way lane in the heart of the Historic Seaport.
Scott Saunders from Fisherman's Cafe in Key West, FL is featured in this "What's Your Story?" segment. Fisherman's Cafe is a new restaurant in the Historic Seaport bringing back Old Key West. Savor timeless favorites and fresh ingredients like Key West shrimp, lobster and conch.